Monero Observer – Monero Observer Blitz #15
November 2, 2022 by keithhill530
44
[ad_1] 1 Nov 2022 [blitz] Here's a recap of what happened this October in the Monero community: Breaking LocalMonero discovered a malicious browser extension targeting XMR users (1) monerodirectory stopped maintaining XmrMemes.com (2) HashVault.pro was the top Monero pool for one day after an unexpected ~325% hashrate surge (3) R&D There were 4 Monero Research
[ad_1]

1 Nov 2022
[blitz]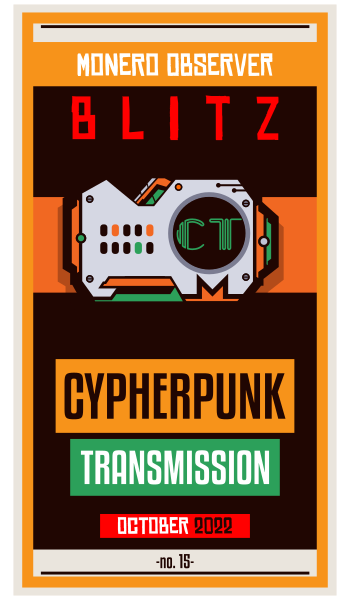 Here's a recap of what happened this October in the Monero community:
Breaking
LocalMonero discovered a malicious browser extension targeting XMR users (1)
monerodirectory stopped maintaining XmrMemes.com (2)
HashVault.pro was the top Monero pool for one day after an unexpected ~325% hashrate surge (3)
R&D
There were 4 Monero Research Lab meetings in October (4,5,6,7)
selsta posted a Monero dev report for September 2022 (8)
adrelanos upgraded the Whonix Monero wallets package to v0.18.1.2 (9)
pokkst released multiple MyNero Wallet versions (10,11)
Haveno v0.0.3 was released with breaking changes (12)
MyMonero for Mobile versions 1.3.7 & 1.3.8 were released (13,14)
CryptoMorpheus_ launched privacy-focused exchange aggregator 'Trocador' (15)
ANONERO released Android-only 'black box Monero app' ANON v0.1/0.1.1/0.2 (16,17,18)
Ora_pro_vivis was teasing Monero POS desktop app 'Merchant' (19)
Stack Wallet beta versions 1.5.0-1.5.10 were released (20,21,22)
m2049r released Monerujo v3.0.3 'Fluorine Fermi' (23)
XMRig v6.18.1 was released (24)
LocalMonero/AgoraDesk mobile apps version 1.0.29 was released (25)
Monero Community Workgroup uploaded UkoeHB's Seraphis code walkthrough video (26)
COMIT 'xmr-btc-swap' v0.11.1 was released (27)
Justin Berman posted the final progress report for his Monero dev work CCS proposal (28)
SChernykh released P2Pool v2.5 (29)
Funding
DangerousFreedom1984's Seraphis CLI wallet CCS proposal was fully funded (30)
HackerIndustrial's 'MoneroSigner' CCS proposal was fully funded (31)
v1docq47's CCS proposal for Russian voice-over and transcription work was fully funded (32)
hinto-janaiyo submitted a CCS proposal to finish developing 'Gupax' (33)
anhdres's 'Monero Garden' CCS proposal was fully funded (34)
larteyoh proposed a bounty for implementing peer discovery via Levin Protocol for 'Neroshop' (35)
LefterisJP submitted a CCS proposal to integrate Monero into Rotki portfolio manager (36)
plowsof's CCS coordinator proposal was moved to the funding stage (37)
Culture
There were 3 MoneroKon 2023 Planning Meetings in October (38,39,40)
A Community Workgroup Meeting took place on October 22 (41)
Monero Talk interviewed former VC Dan Tubb from 'Dissident Factor' (42)
CryptoMorpheus_ published an XMR adoption metrics report on Moneroj.net for the month of September 2022 (43)
rottenwheel published 4 Revuo Monero issues (#140-#143) (44,45,46,47)
Monero Talk interviewed 'Bitcoin Argentina' NGO co-founder Franco Amati (48)
Monero Talk announced 'StealthEX' as their new sponsor (49)
TheStoicCoiner was looking to release 'The Monero Standard' book (50)
Monero Talk interviewed popular Monero artist Crypt0-bear (51)
Monero Talk interviewed 'Students For Liberty' CEO Dr. Wolf von Laer (52)
Cake Wallet was confirmed as a new Monero sponsor (53)
Monero Talk interviewed Lyn Ulbricht (54)
pokkst created a Pleroma instance dedicated to Monero users (55)
mister-rrr launched a new XMR merchant directory website (56)
The next MoneroKon 2023 Planning Meeting was scheduled for 12 November 2022 (57)
The next Community Workgroup Meeting was scheduled for 5 November 2022 (58)
[AFH] [£65 p/h] Full Stack Darknet Development services based in the UK (by DarknetDevUK) (59)
[ANN] Request for information regarding MONERO DISTRIBUTION CORPORATION and the trademark applications filed in its name (by geonic1) (60)
[ANN] Discussion: Community Nodes and Request For Volunteers (by jeffro256) (61)
[ANN] XMR.beauty services: Searx, Invidious, VPN & email (by xmr.beauty) (62)
[ANN] Monerotopia is looking for someone new to do the weekly Monero Price Report! (by sunchakr) (63)
[ANN] The PoC for Metronero is here (it's stagenet) (by Siren) (64)
[ANN] Building Bitcoin and Monero Circular Economies (by AnarkioCrypto) (65)
[LTH] Gratuitas seeking a roaster in Europe (by sustainthyself) (66)
[WTB] Ebay GCs [H] 85% Monero (by dudeitsduo) (67)
[WTS] (Used) Logitech G203 LIGHTSYNC Gaming Mouse, Kindle Paperwhite 6th Generation, SuperCard DSTWO NDS Flashcard, iPhone 7 PRODUCT RED 128GB Unlocked (by MoneroMeansMoney212) (68)
My personal contributions
Daily

published 71 Monero Observer Reports (69) (consult the Archive page for a complete list (70))
updated Changelog (71) and XMR Stats (72)

As needed/On demand

updated reports, listed 41 Community Messages and 9 Calendar events (73,74) & added 8 new Resources (75)
published 1 MRL Meeting Log Summary Report (MRL 2022-10-05) (76) and uploaded 8 meeting logs (MRL 2022-10-05, MRL 2022-10-12, MRL 2022-10-19, MRL 2022-10-26, Community 2022-10-22, MoneroKon23 2022-10-01, Monerokon23 2022-10-15, Monerokon23 2022-10-29) (77,78,79,80,81,82,83,84)
created new Cypherpunk Transmission series (85)
published CT-001: Threat modeling demystified, CT-002: Building from source – Monero CLI, CT-003: Basic server security (86,87,88)
minor style and font changes (full list of updates and improvements can be viewed on the Changelog page (89)

Weekly

(SUN) published 5 Monero Dev Activity Reports (Weeks: 39/40/41/42/43, 2022) (90,91,92,93,94)
(MON) published 1 (final) weekly MO XMR TA Report (Week 39) (95)
(SAT) published 5 MO Artistic Saturday Top 5 reports (Weeks: 39/40/41/42/43, 2022) (96,97,98,99,100)

Monthly

published MO Blitz Report: #14 (September 2022) (101)
Credits/special thanks to:
everyone that reported broken links, suggested edits, sent anonymous news tips and shared my reports
the cypherpunks for their encrypted emails and XMPP (OMEMO) messages
gnuteardrops from Monero.Graphics for consistently delivering amazing art, pro bono publico
plowsof for the consistent news pings
all anon MO loyal readers and generous CCS contributors
hard working people that keep building and maintaining cool stuff for the Monero community
---
That's it for the 15th edition of Monero Observer Blitz.
Previous editions can be found on the /tag/blitz page.
Let me know if this was helpful, thanks for reading!
–escapethe3RA
[ad_2]

Source link