Monero Observer – Monero Observer Blitz #12
October 23, 2022 by keithhill530
76
[ad_1] 1 Aug 2022 [blitz] Here's a recap of what happened this July in the Monero community: Breaking matejcik announced that Monero Trezor users will experience 'four days of service disruption' after v15 HF (1) Unstoppable Domains user email addresses were exposed to 'an unauthorized third party' (2) BTCPay Server released v1.6.1, which fixed a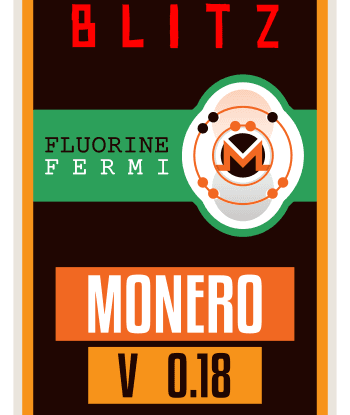 [ad_1]

1 Aug 2022
[blitz]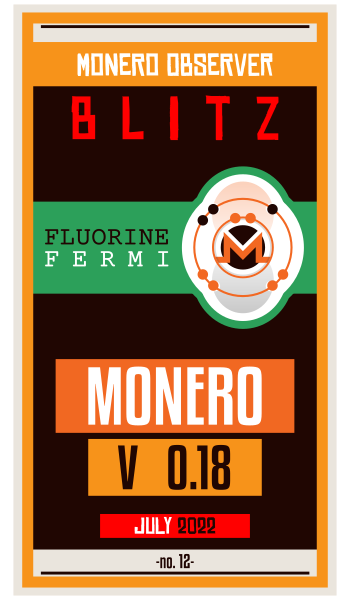 Here's a recap of what happened this July in the Monero community:
Breaking
matejcik announced that Monero Trezor users will experience 'four days of service disruption' after v15 HF (1)
Unstoppable Domains user email addresses were exposed to 'an unauthorized third party' (2)
BTCPay Server released v1.6.1, which fixed a critical altcoins integration issue also affecting XMR merchants (3)
Huobi Global announced plans to suspend XMR deposits and withdrawals on July 16 (4)
Monero v0.18.0.0 Fluorine Fermi was released (5)
The largest Monero mining pool, MineXMR, announced plans to close the pool on August 12, just before the v15 Monero network upgrade (6)
R&D
There were 4 Monero Research Lab meetings in July (7,8,9,10)
selsta posted a June 2022 Monero dev report (11)
ACK-J posted a June 2022 update for their MAGIC-funded research proposal (12)
DangerousFreedom1984 submitted a second CCS progress report (13)
SChernykh released P2Pool v2.2.1 (14)
tobtoht released Feather Wallet v2.0.0 (15)
Several MyMonero for Mobile versions were released (v1.2.6-v1.2.10) (16,17,18)
Justin Berman submitted a new CCS proposal to continue development work on Monero for 3 more months (19)
Cake Labs released Cake Wallet v4.4.3 and Monero.com v1.0.7 (20)
garth-xmr proposed moving versioning for the Monero software to 1.0 (21)
mj-xmr announced v0.2 beta pre-release of SolOptXMR (22)
Gingeropolous posted the first progress report for their Research Computing Upgrade CCS proposal (23)
MPodom352 announced the release of p2pool-report (24)
Funding
binarybaron's XMR-BTC atomic swap desktop GUI CCS proposal was fully funded (25)
LeoNero canceled their Monero dev work CCS proposal (26)
MAGIC Grants introduced a new MAGIC Memberships program (27)
v1docq47 submitted a new CCS proposal to continue creating videos and translating Monero content into Russian for 6 months (28)
noot briefly opened a second CCS proposal to continue developing ETH-XMR atomic swaps for 4 months, before closing it to 'go with a MAGIC Monero Fund grant instead' (29)
CryptoMorpheus_ canceled the Moneroj.net CCS proposal and deployed new charts and site improvements for free (30)
tobtoht submitted a CCS proposal to continue developing Feather Wallet for 3 months, which was moved to the funding stage (30,31)
hinto-janaiyo submitted a new CCS proposal to finish developing monero-bash v2.0.0 (32)
Haveno announced Beldex project as their new sponsor (33)
jberman's and jeffro256's CCS proposals were fully funded (34)
michaelizer submitted a CCS proposal to translate Moneropedia and 'Behavioral Finance, Cryptocurrency Markets' subtitles to Spanish (35)
selsta submitted a new CCS proposal for 3 more months of part-time Monero dev work until the end of October 2022 (36)
John Foss submitted a CCS proposal to fund the next 18 issues of The Monero Moon newsletter (#53-#70) (37)
Interviews
Monero Talk interviewed Bruce Fenton and Starr O'Hara at PorcFest 2022 (38)
DarkFi dev Rachel-Rose O'Leary stated that 'Monero is better than Zcash' in an interview with Justin Murphy (39)
Monero Talk interviewed Giacomo Zucco and Sethforprivacy (40)
Crypto Vigilante uploaded a MoneroKon22 backstage interview with Justin Ehrenhofer (41)
Douglas Tuman was invited to discuss Monero on a main stage panel at Freedom Fest 2022 (42)
Monero Talk interviewed Margot Paez on exploring Bitcoin & Monero (43)
The Web3 Podcast interviewed AlexAnarcho on Monero and crypto-anarchism (44)
Culture
bashkyc launched The Boating Accident Support Hotline onionsite (45)
anarkiocrypto created an inspiring Monero informational webpage (46)
Kivojo published 4 The Monero Standard issues (#18-#21) (47,48,49,50)
Daily Monero transactions reached a new ATH with 46,993 confirmed (51)
rottenwheel published 4 Revuo Monero issues (#127-#130) (53,52,54,55)
John Foss published 4 The Monero Moon newsletter issues (#49-#52) (56,57,58,59)
Justin Ehrenhofer asked the Monero community to decide what to do with Defcon supplies before LV storage contract ends on July 31 (60)
kayabaNerve was teasing the Serai Monero DEX (61)
TickTock_Boom set up xmr.works, a Monero informative website for Turkish people (62)
The MoneroMarket project launched their website (63)
CryptoMorpheus_ published an in-depth XMR metrics article and built 3 new Moneroj.net charts (64)
Cake Labs announced that kayabaNerve will present the Serai DEX in a NYC Monero Meetup on August 9th (65)
MyMonero announced that fluffypony will attend a Cape Town Monero Meetup on August 4th (66)
A Monero Community Workgroup meeting took place on July 30 (67)
The Piconeroj.eu XMR/WOW P2P marketplace was ready for beta testers (68)
The Monero community decided to disallow translation CCS proposals 'pending system redesign' (69)
[ANN] How Monero is Eating Bitcoin's Lunch – And Ten Other Things You Didn't Know About Monero. (by johnfoss69) (70)
[ANN] Opt Out Podcast: Live Q&A with Seth For Privacy (by sethforprivacy) (71)
[WTS] PentesterLab Pro voucher codes for 1 month & 1 year – 20 & 200 EUR (XMR accepted) (by dys2p_official) (72)
[ANN] Debating Alex from LocalMonero on cryptocurrency and corrupted YouTubers [The Hated One] (by Alex_LocalMonero) (73)
[ANN] I want to host free donation pages for people who contribute but have sub-par hardware (by plowsof) (74)
[ANN] There are some invoices that came late, need community approval, but we don't have meetings anymore. (by binaryFate) (75)
[LTH] Help out the MoneroTalk/Monerotopia team! (by sunchakr) (76)
[WTB] 3D printed Jstark figurine (by TheCherryShrimp) (77)
[AFH] Chemical and chemical engineering consulting and tutoring (by GangstaShibe) (78)
[WTS] The Gulag Archipelago: complete 3 volumes (shipping from USA) (by muybienfrutas) (79)
My personal contributions
Daily

published 84 Monero Observer Reports (80) (consult the Archive page for a complete list (81))
updated Changelog (82) and XMR Stats (83)

As needed/On demand

updated reports, listed 51 Community Messages and 5 Calendar events (84,85) & added 5 new Resources (86)
published 1 Monero Workgroup Meeting Log Summary Report (MRL 2022-07-13) (87) and uploaded 5 meeting logs (MRL 2022-07-06, MRL 2022-07-13, MRL 2022-07-20, MRL 2022-07-27, Community 2022-07-30) (88,89,90,91,92)
created a new Blacklist section (93,94) (full list of updates and improvements can be viewed on the Changelog page (95)

Weekly

(SUN) published 5 Monero Dev Activity Reports (Weeks: 26/27/28/29/30, 2022) (96,97,98,99,100)
(MON) published 4 weekly MO XMR TA Reports (Weeks: 26/27/28/29) (101,102,103,104)
(SAT) published 5 MO Artistic Saturday Top 5 reports (Weeks: 26/27/28/29/30, 2022) (105,106,107,108,109)

Monthly

published MO Blitz Report: #11 (June) (110)
Credits/special thanks to:
everyone that reported broken links, suggested edits, sent anonymous news tips and shared my reports
the cypherpunks for their encrypted emails and XMPP (OMEMO) messages
gnuteardrops from Monero.Graphics for consistently delivering amazing art, pro bono publico
all anon MO loyal readers and generous CCS contributors
hard working people that keep building and maintaining cool stuff for the Monero community
---
That's it for the 12th edition of Monero Observer Blitz.
Previous editions can be found on the /tag/blitz page.
Let me know if this was helpful, thanks for reading!
–escapethe3RA
PS: It's crazy to think that I've been working every single day on this project for almost a year (since August 2021). Thanks for your continued support, stay cypherpunk!
[ad_2]

Source link